Who Is
Travis Tooke

?

For over 20 years Travis Tooke has dedicated himself to mastering and teaching the art of Brazilian Jiu-jitsu. He is a passionate martial artist who is committed to serving his students and his community. He is the author of Jiu jitsu and Life: Lessons Learned On and Off the Mat. As the head instructor and CEO of Team Tooke Mixed Martial Arts, Professor Travis has created a program that molds student into athletic martial artists and confident leaders.

The Full Story
STARTED BUSINESS
EARLY
Professor Travis started Team Tooke in 2005 in his father's garage with 0 students. With no college degree or business skills, he took a leap of faith and followed his dream of teaching martial arts. Over time, Travis continued to invest into his training, education and the right mentors. Today, Team Tooke is home to over 300 active students all training under the roof of a 9,000+ sq ft facility. The well-respected academy has created Jiu-jitsu champions and UFC fighters. But most importantly, Travis has helped to build a community of highly skilled and disciplined leaders who work together to keep growing as a team.
Book Author Travis Tooke
As serial-entrepreneur and author of multiple books Travis offers his books online at Amazon Kindle Direct
Travis Tooke
JIU-JITSU FOR LIFE
Lessons Learned On And Off The Mat
More than just a book about martial arts, this is a sometimes humorous, sometimes gut-wrenching look at what it tales to succeed – both in martial arts and in business – when you start with only grit, tenacity, and heart.
GET THIS BOOK
Find Out The Secret Behind Team Tooke
Please listen in on some of our podcasts below.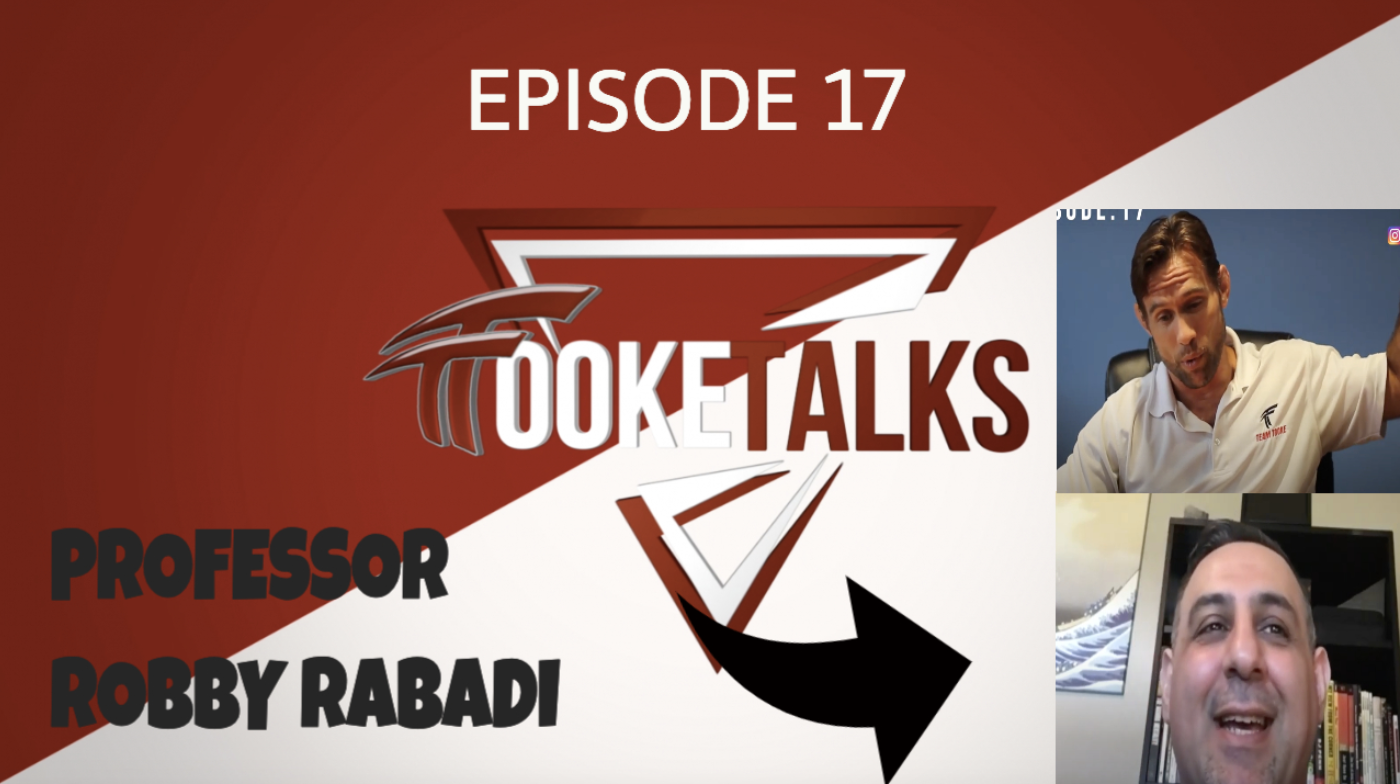 Interview with Robby Rabadi
Unlocking the motivation in your life
Finding the optimum zone to thrive in
LISTEN TO WHAT OTHERS ARE SAYING
Travis Tooke – Author and Coach
This is a must for any BJJ or Martial Arts practitioner! This story of adversity is great and can be easily related to by anyone who has have ever struggled looking, finding and following their passion. It also shows the use of a positive mindset that is willing to work towards goals, turning them into dreams. This is also a must read for any Martial Arts Academy owner or possible future owner. Highly recommended!!!
A martial artist's journey from humble beginnings to business success. Like all real success stories this is not linear nor without setbacks and it's jam packed with life lessons from both Travis himself and some of his mentors. It's written in such a way that you feel you are talking to Travis. The book reads itself. Martial artists, budding entrepreneurs or anyone looking for a story on perseverance and what it takes to succeed should read this book.
Travis takes you through his hard-fought journey in BJJ and tells a story of hardships, success and some painfully personal truths. As a practitioner you'll gain wisdom to help your BJJ growth. Those inspired to begin a business will learn valuable lessons often only discovered the hard way. Those who have shared a portion of their BJJ journey with Travis will be reminded of memories and why Brazilian Jiu Jitsu is more than a workout or self defense class.